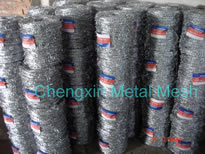 Materials: high quality low carbon steel wire,(galvanized,plastic coated,plastic sprayed)pvc wire,with the colors of blue,green and yellow,ect.
Weaving and characteristics:twist and weaving,Firm and beautiful.
Using:used as barrier for lawn railways,expressways ect.

We offer barbed wire and razor wire for fencing security. Galvanized Barbed Wire is made of quality galvanized iron wire, in IOWA type, with 2 strands, 4 points. Barbs' distance 3-6 inches ( Tolerance +- 1/2" ).
Application of Barbed Wire: Barbed Iron Wire is suitable for industry, agriculture, animal husbandry, dwelling house, plantation or fencing. Galvanized barbed wire is packed in coils.
Type

Wire Gauge (SWG)

Barb Distance (cm)

Barb Length (cm)

Electric Galvanized Barbed Wire; Hot-dip zinc plating barbed wire

10# x 12#

7.5-15

1.5-3

12# x 12#

12# x 14#

14# x 14#

14# x 16#

16# x 16#

16# x 18#

PVC coated barbed wire; PE barbed wire

before coating

after coating

7.5-15

1.5-3

1.0mm-3.5mm

1.4mm-4.0mm

BWG11#-20#

BWG8#-17#

SWG11#-20#

SWG8#-17#

PVC PE coating thickness: 0.4mm-0.6mm; different colors or length are available at customers request.